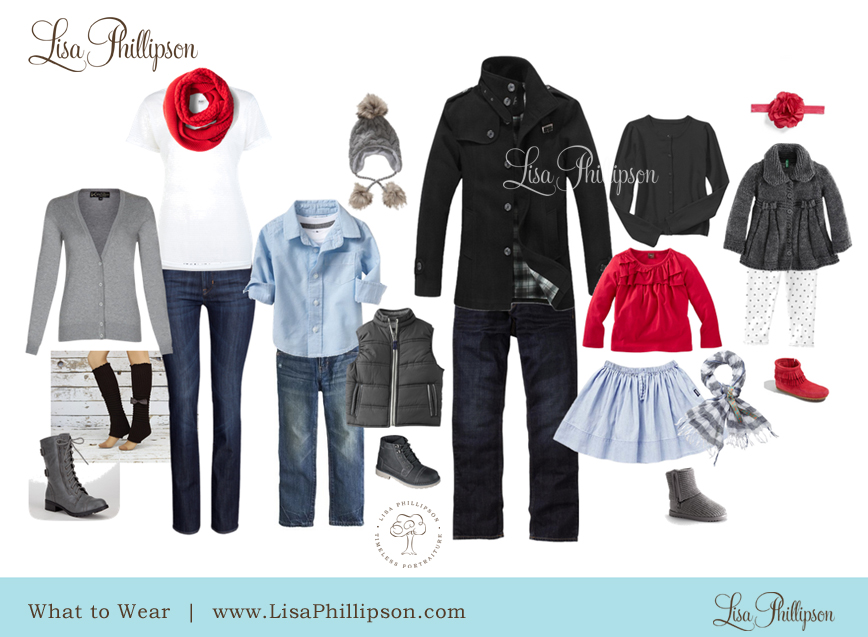 Are you looking for a perfectly coordinated family picture?  A fantastic Christmas Card picture? This is an idea to give you inspiration for your Holiday Cards or just a great picture around your Christmas tree. The rules here apply for any great family picture: start with a neutral base color to dress everyone in.  Here it is gray and some denim – lots of variations of these colors in different textures and shades.  Now Add one person in a bright pop of color.  Here you see Red but it could be orange, yellow or even bright green.  Use that same pop of color you have choosen to accessorize others in the group.  Chunky textured scarves are wonderful as well as bracelets, headbands, shoes and hats.
This sampling would be wonderful in an outside picture with pops of red to really show the spirit of the Season.  When indoors, think of competing colors and what your home decor looks like.
I have storefronts to purchase Christmas Cards with TinyPrints and also Minted.  Both currently have great sales going on and have options for this color scheme on the first page.
It is the most wonderful time of the year! My favorite.  Merry Christmas!